A recent study found that after receiving their certificate, more than 75% of those participating in the Google Career program were offered a job, a promotion, or a pay increase.
So, it is safe to say Google certifications are created to help you advance and upskill your career.
Google certifications have gained popularity as a way to showcase your expertise in various areas, such as digital marketing, analytics, and cloud computing.
So what can you expect from the Google certifications? How long does it take to complete the certificates?
To answer such queries, I have provided a closer look at the benefits of earning a Google certification, as well as some best Google certifications.
Are Google Certifications Worth it?
Yes, Google Certifications are totally worth the value and time.
Google certifications provide value to your professional portfolio. These certifications provide many benefits to learners and comprehensive knowledge of many technical skills that are essential in the IT industry.
These certifications are created by Google practitioners who are renowned experts in their fields. These courses focus on the practical knowledge that helps you use them in your job and real-life experiences.

For instance, if you work in digital marketing or advertising, a Google Ads or Google Analytics certification can help demonstrate your proficiency in those tools and may improve your job prospects.
Similarly, if you work in cloud computing or IT, a Google Cloud Platform certification can be valuable in demonstrating your expertise in that area.
What are Google Certification courses?
Google Certification are online training courses that Google backs up in selected high-demand industries that will give you professional-level training within your chosen area of study.
Google specifically targeted some of the most in-demand areas of study within the technology field to build certifications.
These certifications include e-commerce, digital marketing, IT support, project management, data analytics, and UX design programs.

Though they are designed by Google, they are taught through the online course platform Coursera. 
Additionally, Google offers a variety of certification courses in different areas.
As I mentioned earlier, there are 8 certifications Under Google career certification. So, you can rest assured you will find the right one for you!
Best Google Certification Courses
Now, let's have a look at the most representative courses and certifications that are offered by Google.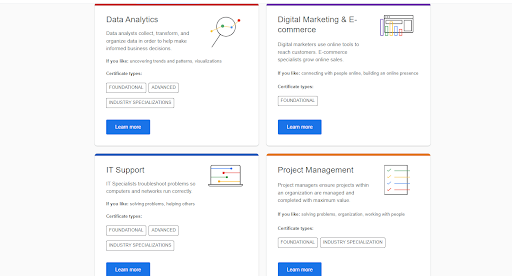 Google Project Management Certificate
Data Analytics Professional Certificate
UX Design Professional Certificate
IT Support Professional Certificate
IT Automation Professional Certificate
Google Digital Marketing and eCommerce Professional Certificate
Google Advanced Data Analytics Professional Certificate
Google Business Intelligence Professional Certificate
How Much Does Google Certification Cost?
Google certifications are available on Coursera and usually offered at a lower price which makes it a good choice for everyone.
Most of them are usually $39 to $78. These include UX Design, Project Management, IT Support, Data Analytics, and E-Commerce certificates.
The Android developer course certificate comes for $149 on Google's own platform.
These certifications are a great start for newbies and for those with no background in IT.
Moreover, Google also offers scholarships to students who need them. You will be assessed on educational history, employment status, annual income, and how much you can afford to pay before you apply for the scholarship.
Who Are the Google Certifications Best for?
Google certifications provide a great starting point for individuals who are new to the industry or looking to change careers.
These certifications can help them gain the knowledge and skills required to succeed in various fields like IT, Cloud Computing, Data Analysis, UX Design, Digital Marketing, and Project Management.
They are also beneficial for experienced professionals who want to enhance their knowledge and skills in their field of expertise.
For business owners who want to enhance their knowledge by understanding their business's overall performance, Google certifications can help them to achieve it.
Moreover, Google certifications can provide students with the necessary skills and knowledge required to succeed in the job market.
Conclusion: Are Google Certifications Worth It (2023)
So, whether Google certifications are worth it or not?
Yes, they are totally worth it and provide valuable skills to improve job prospects and career advancement.
These certifications are much more affordable and provide hands-on experience with real-life projects.
So step ahead and get started with the Google certification to kickstart your career.
FAQs
Are Google certifications free?
No, most of the certifications cost around $39. Other than that, the price varies between $79-$149.
Will a Certificate Help Me Get a Job?
Earning a certificate can certainly help you get a job, but it's not a guarantee. It's important to combine your certificate with relevant work experience, a strong resume, and effective communication skills to increase your chances of success in the job market.
How Long Does It Take to Get the Certificate?
The average time to complete these certifications is about one to two months.
Latest posts by Ryan Harris
(see all)