Who doesn't love photography?
I mean, capturing a moment instantly via a lens has always astounded me, but I lacked the technical understanding of photography. Yes, that sucked!
Though I can click a picture, I did not know the principles or fundamentals. That's when I realized I need to take a course on photography immediately.
My friend had suggested KelbyOne – a photography learning platform, but I was skeptical about it. Anyway, I took a few courses and found out that the lessons were immaculate.
Also, I found out that the courses in KelbyOne were handled by award-winning photographers worldwide. Hence, I knew that I am not blindly taking a random course on photography.
After taking multiple courses on KelbyOne, I decided to write a detailed review about it.
In this KelbyOne Review, you'll learn everything about KelbyOne, my review on the top three courses in KelbyOne, what I Liked, who it is best suited to, the pricing, etc.
I also answer the verdict – "Is KelbyOne worth it?" towards the end.
KelbyOne Review: What is it?
KelbyOne is an e-learning platform that focuses on the niche of photography. 
The 1993 established platform was initially launched as a computer training platform. Looking at the fast-growing niche, of photography, the company decided to merge with the National Association of Photoshop Professionals.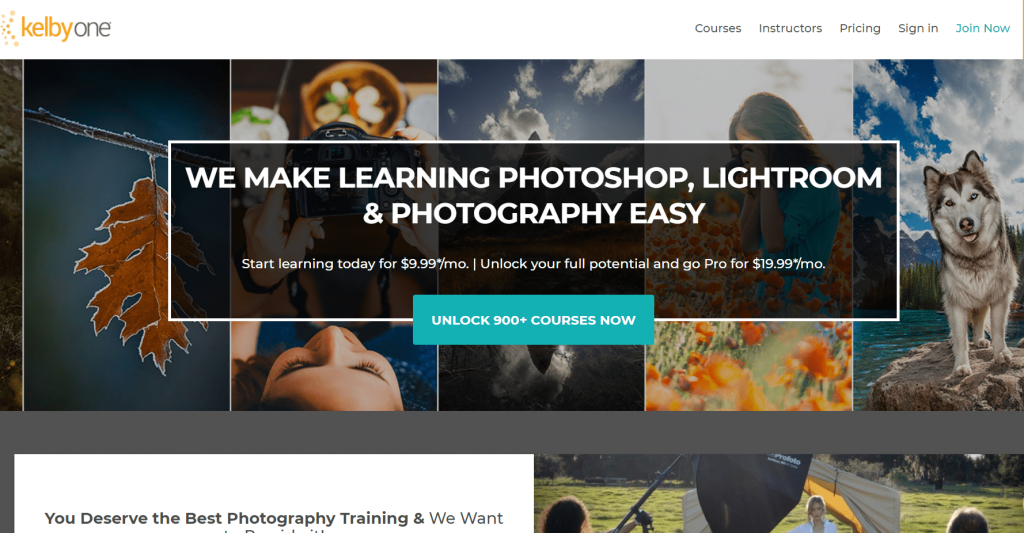 The rest is history. The learning platform started to make big moves, and along with photography courses, it also introduced editing courses later, which became a hit.
The instructors in KelbyOne are some of the world's best award-winning photographers who have worked in various types of photography, from fashion to wildlife to commercial to many more.
The categories in KelbyOne are limitless. Apart from the usual portrait and landscape modes, you also get in-depth teaching on retouching, gear, drone, etc.
The best part about KelbyOne is that you get to pick the type of course, course category, and even the instructor for the chosen course. I mean, isn't it amazing if you get to pick an instructor based on their work and experience?
Using these three things, you get to choose the right course in KelbyOne quickly.
Anything from lighting to skin smoothening to Photoshop, KelbyOne has a course for everything you'd like to learn about photography, which means the platform is for photographers and anybody interested in the art of photography.
Using KelbyOne Pro, you get unlimited access to 800+ courses with exclusive member discounts and exciting downloadable goodies like e-books.
You also get the advantage of viewing the content in KelbyOne offline using their mobile application, which is available in both IOS and Android.
What's more? You can also stream KelbyOne courses on Apple Tv, Roku, and Firestick, making learning much more accessible.
KelbyOne Review: How KelbyOne works?
KelbyOne has almost 900 courses from different creative photography modes.
You can search for courses by plan,  course category, course type, and instructor – a brilliant tool for narrowing down your search.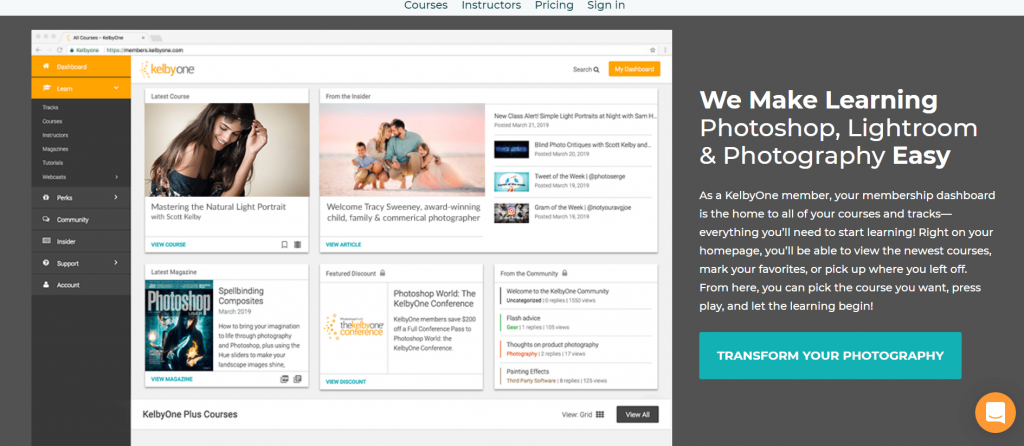 The photography-based learning platform follows subscription modules from which you get complete access to the entire course library.
In KelbyOne, Adobe Creative Cloud offers over 60 courses covering the most popular programs, such as Photoshop and Lightroom.
A KelbyOne PLUS membership module gives you access to over 400 courses, a preview of a complete guide to help you organize your learning in Kelby, and a digital magazine known as Photoshop User.
Another great pricing structure in KelbyOne is KelbyOne Pro, which gives you much more advanced benefits like learning tracks, weekly course updates, exclusive discounts, editing tools, and a pass to an active community hub.
KelbyOne has around 100 experts in their respective fields and will help you maximize your photography or editing skills.
KelbyOne Review: My encounter with the top three courses in KelbyOne
I am writing this review only after taking a few courses in KelbyOne, myself so that you get to see an authentic review from my side. As I was going through courses to pick from, I found out that the founder of KelbyOne, Scott Kelby, is also teaching a course.
Hence, I instantly took two courses offered by Scott Kelby and one additional course by a different instructor on food photography because I've been struggling with it.
Also, there are a few free courses that KelbyOne offers. This can be one way to access the KelbyOne courses for free and get an experience in learning from legends.
Starting with:
1. Lighting for food photography
Instructor: Aaron Van
Duration: 1 hour and 45 minutes only
The number of lessons: 16 lessons
Suitable for: All food photographers struggling with lighting and food bloggers who regularly update their social media with good food images. This course is a must.
Quick verdict: The course covers everything from choosing gear to using cropping tools to picking accessories for lighting. I mean, Aaron did not constrain himself to teach only lighting though the course says "lighting for food photography." He also shared some insightful advice on photography in general and taught his unique techniques.
2. Photoshop for Lightroom classic users
Instructor: Scott Kelby
Duration: 2 hours and 40 minutes
The number of lessons: 14 lessons
Suitable for: Anyone who is trying to understand the basics of Lightroom with guided instructions and photographers who want to learn different features of Lightroom.
Quick verdict: It was great learning from Scott Kelby in his KelbyOne course. I learned the transition from other software to Lightroom, various tools used in Lightroom and Photoshop, and some basic understanding of retouching. The structuring of lessons was well-executed and neatly presented. Overall, it was a great experience.
3. Photoshop for beginners
Instructor: Scott Kelby
Duration: 2 hours and 30 minutes
The number of lessons: 14 lessons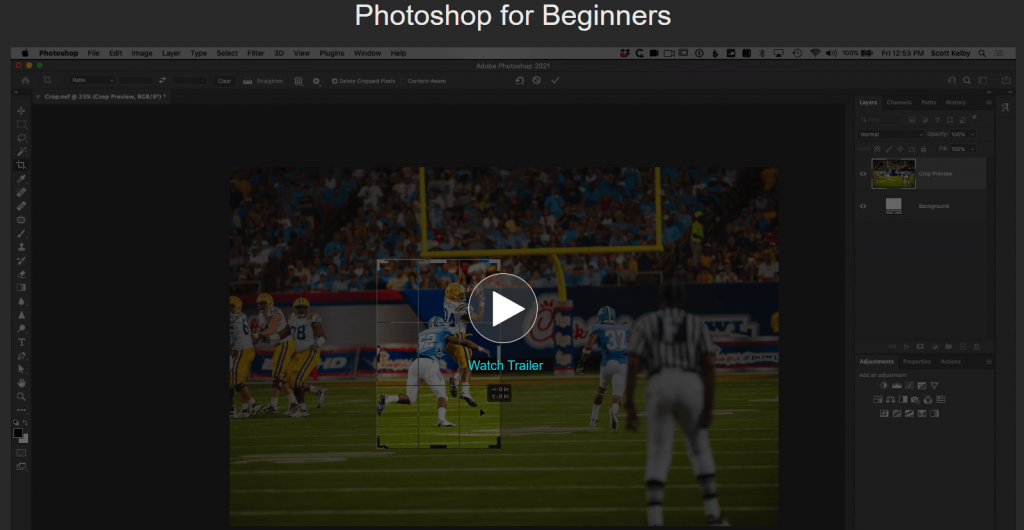 Suitable for: Beginners, editors, and graphic designers can take up this course because there is an extensive explanation of everything related to Photoshop.
Quick verdict: This course felt like an open guide to Photoshop. From getting started with the software to figuring out brushes to photo manipulation to learning layers, Scott taught me everything about Photoshop. He also included some great examples for practical understanding. The teaching style was immaculate and well-delivered.
KelbyOne Review: What did I like about KelbyOne?
A few aspects in KelbyOne really stood out and smoothened my experience. They are:
1. Great pricing plans
Having taken multiple courses in different learning platforms, I found out that KelbyOne is the only e-learning platform with two pricing plans having justified features despite the price rise.
Both plans produce incredible benefits like fresh content updated monthly, an exclusive digital magazine, a great learning guide, and access to 400+ courses.
Anyway, I took KelbyOne Pro, which led me to be a part of an interactive community forum. I also received downloadable e-goodies like brushes, presets, and e-books.
2. A plethora of courses
Usually, you'd get overwhelmed if there are plenty of options to choose from but let me tell you that each course in KelbyOne is unique and different.
I learned Photoshop from an instructor while also learning Lightroom from a different instructor who is a professional at it, without switching platforms. Likewise, there are many more significant courses for you to scale up your photography skills.
KelbyOne felt like a one-stop destination for all my photography learnings.
3. Outstanding features
There were special features in KelbyOne which I really loved. From picking the instructor to choosing the course category, KelbyOne stood out in everything.
Also, there was an excellent community forum, which was interactive and engaging.
I got the opportunity to communicate with ongoing students worldwide while taking courses in KelbyOne using the KelbyOne Pro subscription module. 
Additionally, an "ask an expert" is available through which a student can receive answers directly from the instructor or the official KelbyOne team, which was great.
KelbyOne Review: What I felt can be improved in KelbyOne?
Though I liked a few things in KelbyOne, I noticed a few downsides, which I would like to share. They are:
Multiple teaching methods
Although naturally, the teaching style might vary from instructor to instructor in any learning platform, I felt KelbyOne followed no standard format.
The courses in KelbyOne were grouped like they were from different learning platforms clubbed together under the same roof. For instance, you might have had a great learning experience in a course in KelbyOne.
Still, the platform cannot promise the same in the following courses because it is handled by a different instructor who follows a different teaching style and pattern.
KelbyOne Review: Pros & Cons
Here are the benefits & drawbacks of using KelbyOne.
Pros
Free plan is available
Multiple Subscriptions for your convenience
Personal assistance in the pro plan
Additional tools for learning
Personalization option available
Cons
All the courses are only based on photography
There are some courses that are difficult to understand
KelbyOne Review: Who is best suited for KelbyOne?
KelbyOne is indeed a platform entirely dedicated to learning photography, editing, and multiple modes in photography. As I was taking a few courses in KelbyOne, I noticed that I could recommend KelbyOne to:
Anyone who wants to learn the art of photography quickly
Photographers who want to diversify into exploring other modes. 
Professional photo editors learning other photography software
Any creatives who want to learn how to use Photoshop and Lightroom
Although the platform advertises itself as an exclusive program with multiple photography learning courses, I realized that even creatives like designers could also take inspiration from a few courses to build up their portfolio quickly.
KelbyOne Review: What is the pricing of KelbyOne? (2023)
In KelbyOne, there are two excellent pricing plans with multiple benefits.
Hear me out. KelbyOne follows a subscription-based service. Their subscription modules are: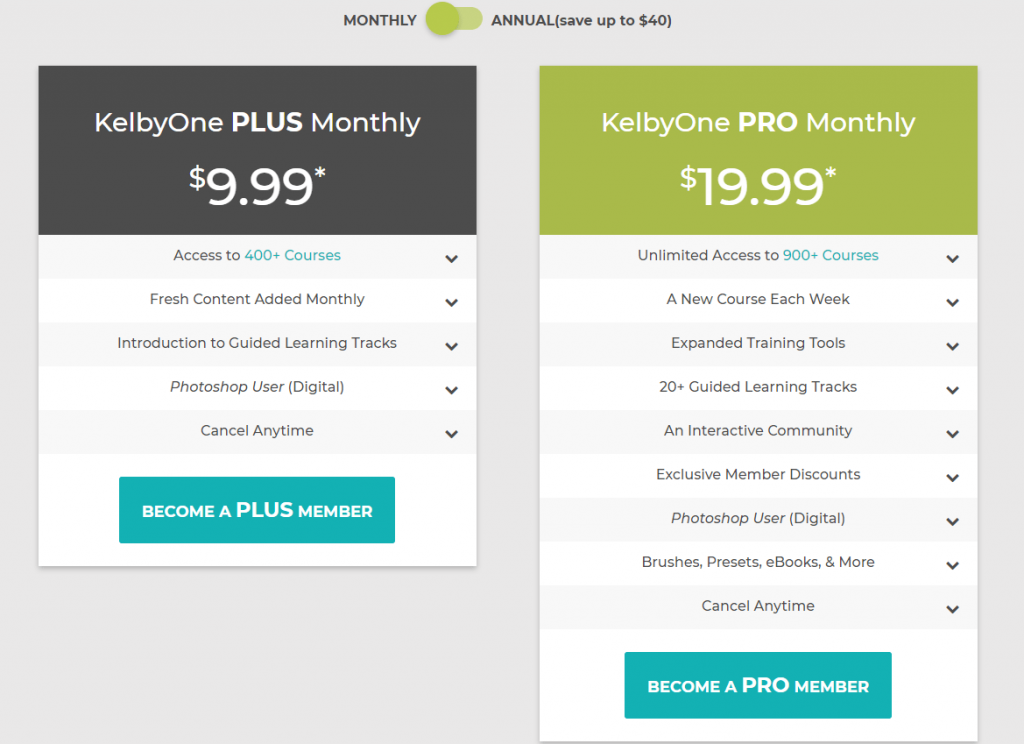 KelbyOne Plus 
Monthly – $9.99/-
Annually – $96/-
KelbyOne Plus gives complete access to 400 courses, an exclusive digital magazine (Photoshop User), guided learning tracks for popular courses, and newly updated content every month.
KelbyOne Pro
Monthly – $19.99/-
Annually – $199/-
KelbyOne Pro gives lifetime access to the entire course library worth 800+ courses, exclusive tutorials, private webcasts, getting to be a part of a community hub, attractive member discounts, and excellent downloadable e-goodies like brushes and presets.
KelbyOne refund 
Having a refund policy in a learning platform has become compulsory these days, and KelbyOne has made sure to have it, fortunately. There is a 100% money-back guarantee in KelbyOne, which you can access by contacting the KelbyOne team.
You are supposed to contact us within the first 30 days for annual subscriptions, and for monthly subscriptions, you have to request within the first seven days of purchase.
KelbyOne Review: Final verdict
Without any further thinking, I would say yes. Let me justify my verdict.
KelbyOne is an incredible learning platform specially dedicated to photography-related courses starting from just $9.99/- per month.
I mean, you do not easily get courses that cheap of a price. Plus, the courses are taught by award-winning photographers worldwide, which is incredible.
Even if you are a beginner or an experienced professional, KelbyOne has courses for all difficulty levels.
You also have endless options to choose from, from various photography modes to learning Photoshop to understanding conceptual photography in KelbyOne.
With KelbyOne Pro, you literally get lifetime access to the entire course library along with exciting downloadable goodies like exclusive brushes, presets, and e-books.
KelbyOne also offers courses for editing, which means even if you have photography knowledge and want to enhance your editing skills, KelbyOne is the best option.
Frequently Asked Questions
Is there a free trial in KelbyOne?
Unfortunately, there is no free trial in KelbyOne, but the platform offers 20 exclusive courses free of cost.
What is the cost of KelbyOne?
KelbyOne comes with two exciting plans, KelbyOne Pro at $19.99 per month or $199 per year and KelbyOne Plus at $9.99 per month or $96 per year.
What is KelbyOne?
KelbyOne is an incredible learning platform specially dedicated to photography-related courses starting from just $9.99/- per month.
Is there a refund policy in KelbyOne?
There is a 100% money-back guarantee in KelbyOne, which you can access via contacting the KelbyOne team within the first 30 days. 
Latest posts by Ryan Harris
(see all)