Educative is a comprehensive online learning platform that offers a wide range of courses in programming, data science, and other technical fields.
What's more, Educative offers its users a chance to save money by providing discounts through coupon codes.
In this article, we have an exclusive Educative Coupon code to save money on your educational journey.
So, let's dive in and see how you can make the most of this online learning platform.
Available Educative Coupon Code 2023
To get exclusive offers on Educative courses and training programs, here we have listed some of the Educative coupon codes and discount offers.
There is a 20% discount on the Educative courses if you use this coupon code: SAVEIT20.
Moreover, you can save up to 15% on all the Educative courses with the coupon code: CODELZ2022.
| | |
| --- | --- |
| Coupon Code | Discount |
| SAVEIT20 | 20% off |
| CODELZ2022 | 15% off |
Now that you have coupon codes, now let me help you to understand how to avail of those.
How to Claim Educative Coupon Code: Step-by-step guide
Here is a step-by-step guide to claiming the exclusive Educative coupon codes.
Step #1: The initial step obviously is to visit the official website of the Educative by clicking here.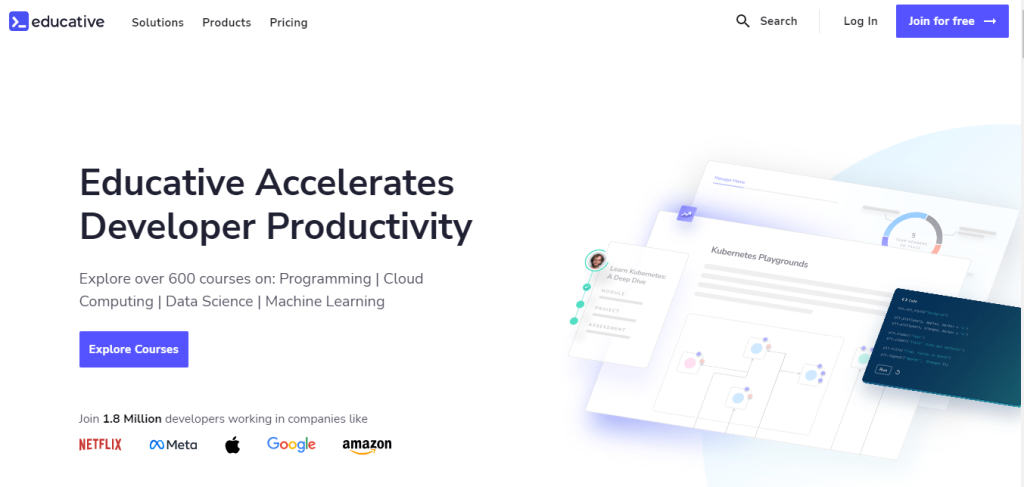 Step #2: The next step is to sign up and create an account by filling in your details like email, email address etc.
If you have an existing account then you can log in to your profile by entering your email and password.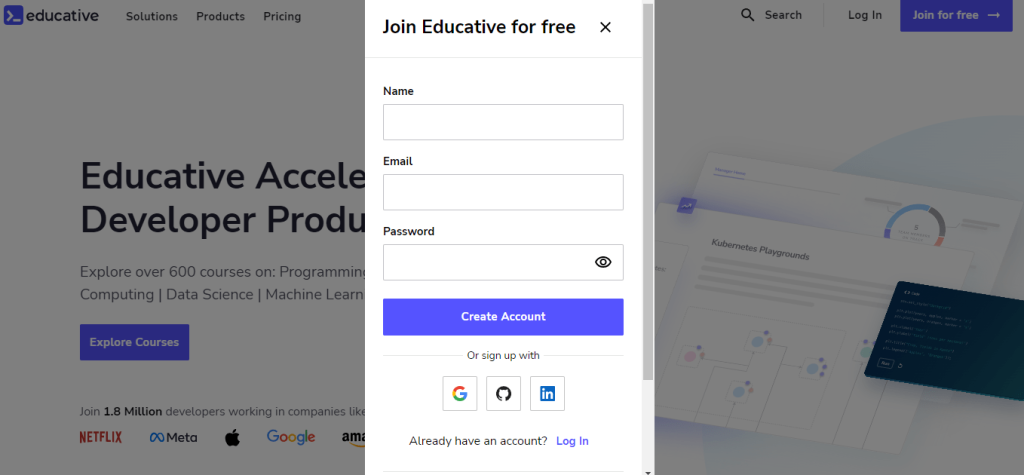 Step #3: After logging in or signing up, you will have to select the suitable pricing option. Choose the 'pricing for Individuals'.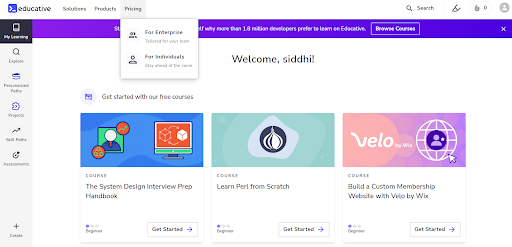 Step #4: Once you select the membership plan, you will be directed to the payment page, where you will see the redeem coupon option.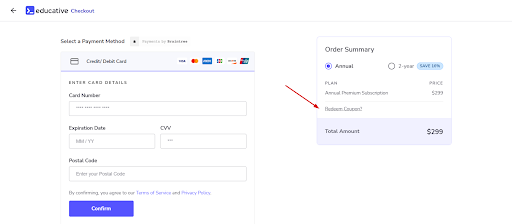 Step #5: You can simply copy and paste the coupon code mentioned above to avail the discounts on your purchase.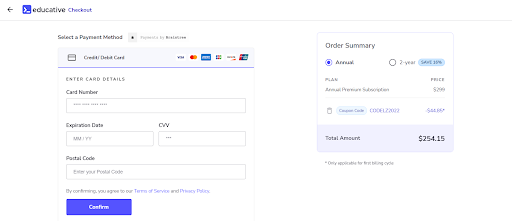 After redeeming, you will see the discounted price on the screen. After that, you can submit the other necessary details and click on the confirm page.
And finally, you will have successfully claimed coupons on your subscription plan.
Educative Pricing Plans
Educative offers two formats of pricing and plans which offers several features, including career paths, projects, and completion certificates.
Individual Plan:
The individual plan offers three different plans.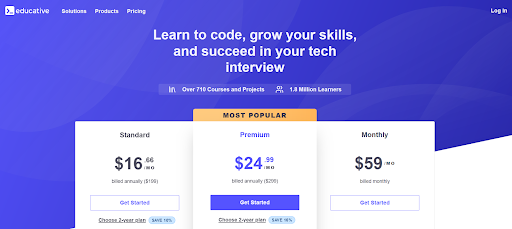 Standard Plan: This plan comes for $16.66/month. It will be $199 if you bill it annually.
Premium Plan: This one is the most popular plan among learners. It comes for $24.99/month and is billed $299 as a yearly amount.
Monthly Plan –$59 per month.
Enterprise Plan:
The enterprise plan offers three different plans.

Team Plan: The team plan costs you around $299 per user per year.
Enterprise Plan: The enterprise plan comes at $399 per user per year.
Enterprise Plus: This plan is customized and you will have to contact the sales team of the Educative.
Educative Free Trials and Free Courses
There is a free plan trial and free courses available on Education.
For Students:
Here is a discount for students who want to learn with Educative. By utilizing your GitHub account, you can access Educative for free as a student. You can just sign up and select "Sign up with GitHub." Plus, you will be able to create a new account and get access to more than 60 most popular courses on Educative for the next six months.
For Everyone:
Other than that, if you are not a student, Educative also offers a 7-day free trial. You just have to sign up and start your free trial. After 7 days, you can choose to upgrade to membership plans.
Conclusion: Educative Coupon Code (2023)
Educative is a fantastic platform that offers high-quality and interactive courses for software engineers, developers, and technology enthusiasts.
Using Educative coupon codes can help you save money while accessing the platform's premium courses, making learning more affordable and accessible to a wider audience.
With regular updates and new courses being added, Educative continues to be a valuable resource for anyone seeking to improve their skills in the tech industry.
So, save your money and get a program with amazing discounts.
What are your thoughts on this? Let us know in the comment section below.
FAQs
Does Educative offer a free trial??
A 7-day free trial is available through Educative. Before purchasing a membership plan, you can use the free trial to access all of Educative's courses.
Are certificates provided by Educative?
Only users with active subscriptions to Educative are eligible to get certificates upon successful completion of courses. 
Are the courses offered by Educative worth paying for? 
Educative offers top-notch courses with clear, easy-to-understand content that include practical experience with a variety of programming languages. So Educative is unquestionably worthwhile.
Latest posts by Ryan Harris
(see all)