Are you looking for Scrivener Alternatives? Don't worry; we got your back.
Scrivener is a widely used novel writing platform. Most experts recommend it for organizing projects and research. However, it is not free software and may not be affordable for beginners and people tight on budget.
Scrivener alternatives always come in handy here to accomplish tasks. They may not have enough features like scrivener but may fulfill your needs and can be affordable. Whether you are a student, beginner, part-time writer, or full-time writer, These alternatives will surely help you to accomplish your tasks efficiently.
In the following article, I have compiled a list of all Scrivener alternatives that may serve your needs and help you to increase your work productivity. You can select the one that is most suitable for your requirements. 
Scrivener Alternatives: In a Nutshell
If you are in a hurry or on the go and don't have enough time to take a look at the details of the alternatives, here is the gist of the article that will help settle your curiosity.
| | | | |
| --- | --- | --- | --- |
| Sr. No. | Platform | Price | Ratings |
| 1. | Manuskript | Free | 4.8/5 |
| 2. | Plottr | $39/year | 4.7/5 |
| 3. | Final Draft | $249. | 4.7/5 |
| 4. | Atticus | $147 | 4.5/5 |
| 5. | Google docs | Free | 4.3/5 |
| 6. | Microsoft Word | Free | 4.1/5 |
| 7. | Novel Factory | $7.50/month | 4.0/5 |
| 8. | Bibisco | Free | 3.9/5 |
| 9. | Quoll Writer | Free | 3.9/5 |
| 10. | IA writer | $49.99 | 3.0/5 |
| 11. | Ulysses | $5.99/month | 3.5/5 |
Top 11 Scrievner Alternatives
Let us dive into the details of all the scrivener alternatives mentioned in the above table. I have mentioned the required details along with the pros and cons of the platforms and the cost you need to pay in order to get access to the best features of the platform. 
1. Manuskript
The editor is an open-source platform. You can easily organize your draft with the help of the tabs. The UI of the editor is simple and easy to use.
The editor has an intuitive outlining function making it easy to work on. The virtual index cards provide you access to keep track of your thoughts by noting down the required details. The editor helps to analyze your writing and helps you write better.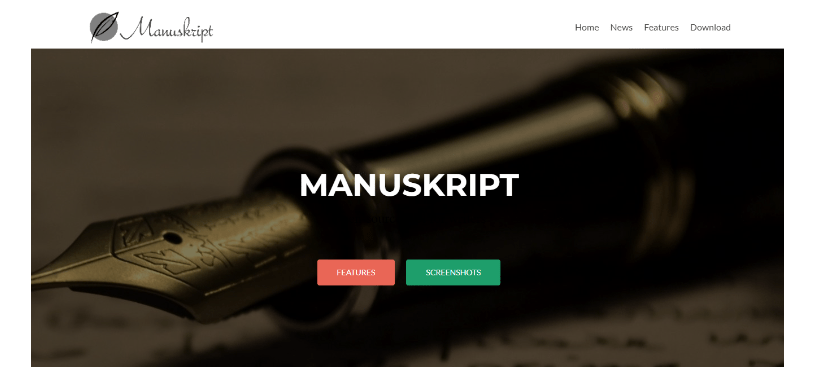 Pros:
The software is compatible with Windows, IOS and Linux. 
Completely free to use.
You can set a goal and track your work.
Cons:
The Ui may seem to be overwhelming to some writers who prefer a modern interface.
Pricing: Free
Ratings: 4.8/5
2. Plottr
The plottr can prove to be a suitable alternative for Scrivener. It helps writers to arrange characters, scenes, plots, etc. You can also colour-coordinate the line of your story or filter it by tags, places, and characters. 
The editor helps you to link places and characters to the scenes and plots. It will automatically create an outline for you using the scenes and plots that you have created. You can export your draft into Microsoft Word.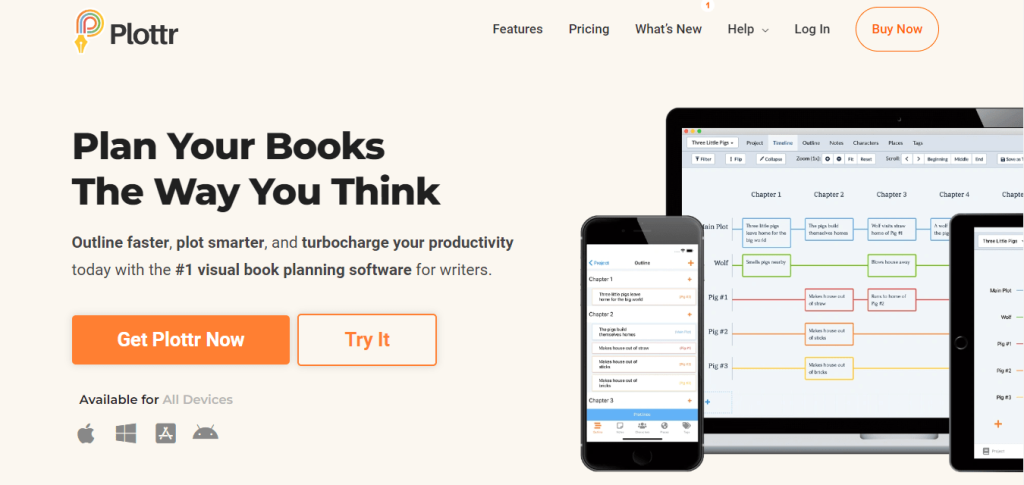 Pros:
Available across all your devices.
Plottr helps you to visualize your plot points. 
You can easily edit your plots and scenes in the outline view and filter them using the storyline.
You can use the templated available to create your storyline and mould it according to your wish. 
You can save all the drafts in an offline mode.
Cons:
The platform is paid, and all the best features are available in the pro version.
Can be overpriced for beginners.
Does not include an in-built processor.
Pricing:
| | | |
| --- | --- | --- |
| Plan | Annual | Lifetime |
| 1 Device | $39 | $139 |
| 3 Devices | $49 | $149 |
| Pro | $99 | $299 |
Ratings: 4.7/5
3. Final Draft
You can automatically format your script according to industry standards. If you write for the entertainment industry, it is an extremely suitable tool for you.
The platform also provides free educational content for beginner writers to improve their writing skills. It has various tools included in an easy-to-use toolbar. A final draft is a suitable tool for screenwriters.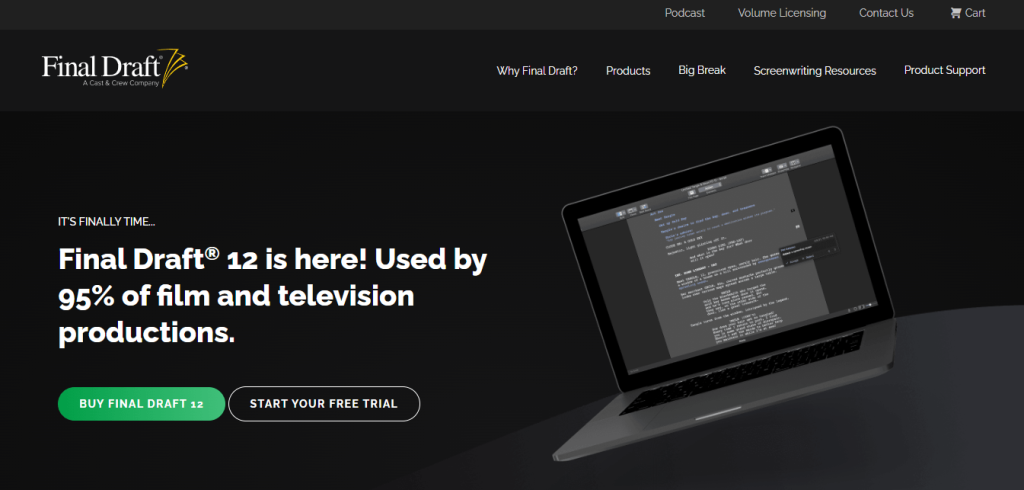 Pros:
You get a 30-day money-back guarantee.
Each purchase comes with two active users.
You can sync your work across all your devices.
You can use a template to create the draft you wish.
It can also be used in an offline mode.
Cons:
You cannot return to the lower plan once you upgrade it.
The software can be pricy for beginners.
Pricing: $249.
Ratings: 4.7/5
4. Atticus
It is an all-in-one editor. You can easily format and write your draft in the editor and make your writing more attractive using the function available in the editor. The editor is basically a novel writing software with an easy-to-use interface.
You can drag and drop the chapters to arrange and format them. There are many templates to choose from provided by the editor. It will help you to customize your writing easily.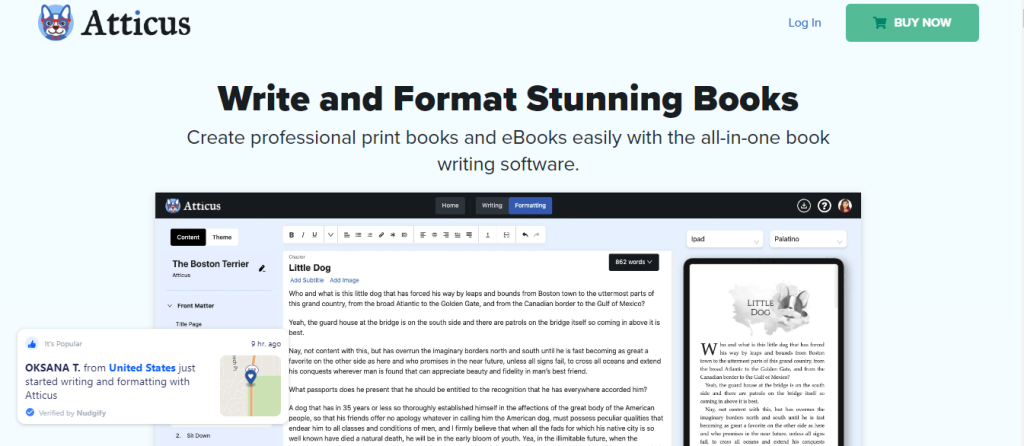 Pros:
The software has cloud-based storage.
Integrated with pro-writing Aid
You can download the draft in a pdf or EPUB format.
The app is accessible across MAC, Windows, Linux, and Chromebook.
You can use it in offline mode.
Easily imports drafts from other software.
Cons:
Does not have multiple payment options.
The cost of the software may not be affordable for beginners.
Pricing: $147
Ratings: 4.5/5
5. Google Docs
Google doc is one of the most used tools by writers. Apart from being a budget-friendly editor, it provides you with all the necessary features.
You can organize the document according to the Heading and subheading. Furthermore, you can break down the long drafts into smaller sections using the clickable table of contents.
However, the google doc is not feasible for use if your draft exceeds 50,000 words. It becomes difficult to keep track of formatting and maintain a proper draft.
To create drafts on google docs, you just need to have a Gmail account. Once you have a Gmail account, you can open google docs, choose a format and start typing.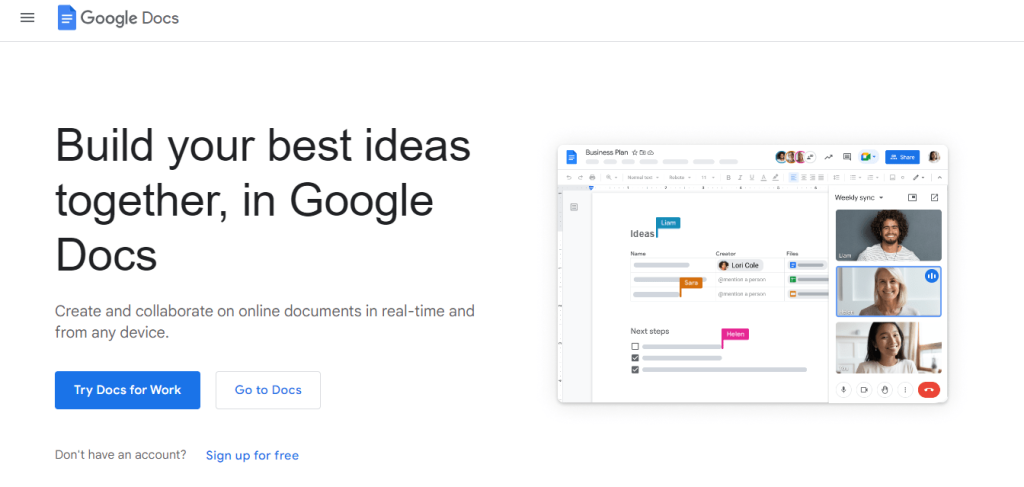 Pros:
Easy to format and maintain the document.
The editor supports the voice-to-text function.
Your documents will be available across all your devices as the documents are cloud-based.
Google Docs offer an in-editor Google search widget to make it easy for you to research your draft. 
Cons:
You need to have a constant internet connection to work in google docs.
Converting a Word document into a Google document can lead to errors. 
It may be difficult to switch between tabs when working on google docs.
Pricing: Free.
Ratings: 4.3/5
6. Microsoft Word
Used by the majority of Windows users, Microsoft Word is the editor that most people grew up using. Most authors prefer it due to its easy-to-understand interface and clean UI. It is also used by the majority of professional outlets. 
The writers prefer the word at the beginning of their career as its basic features are free, and it is already available on their system. The software has been updated with each update rolling out, making it better than the previous versions due to the added features and functionality.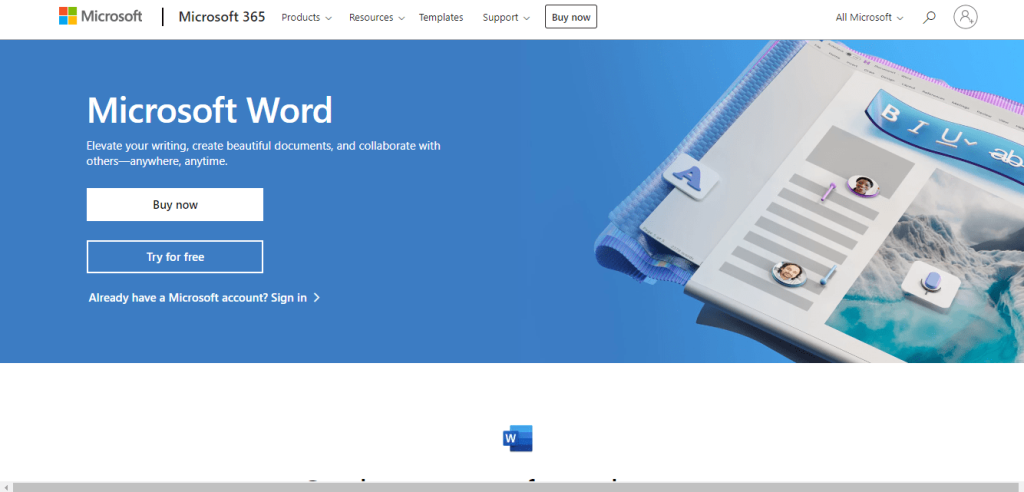 Pros:
It is stable software and is easy to understand.
Easily integrates with all the apps of the MS suite.
The editor is compatible with most of the publications and collaborators.
Cons:
To use the advanced features, you need to pay every year.
Most of the users just use the basic functions, despite purchasing the paid version.
Pricing:
| | |
| --- | --- |
| Plan | Price (Annual Subscription) |
| Free | 0 |
| Microsoft 365 Personal | $6.99/ month |
| Microsoft 365 Family | $9.99/ month |
| Microsoft 365 apps for Business | $8.25/month |
| Microsoft 365 Business Standard | $12.50/month |
Ratings: 4.1/5
7. Novel Factory
The Novel Factory is a suitable scrivener alternative for beginners. It also helps the experienced writer draft their novel in a better way. You can take advantage of the features like organizing the draft, creating the outline, corkboards, etc.
The software is great, especially for fictional writers. You will get a step-by-step guide to write your draft, starting from the first draft to the final manuscript.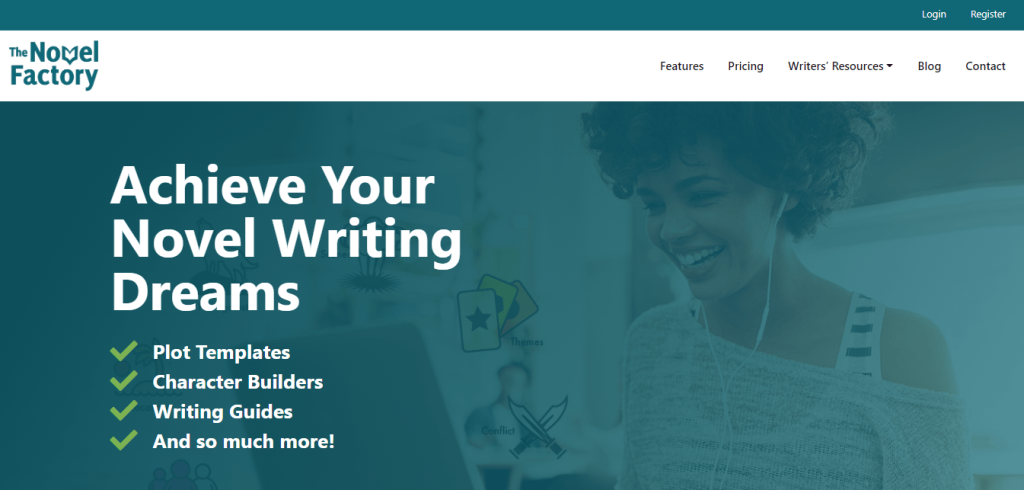 Pros:
It helps to organize your ideas and thoughts in one place.
You get ready-made story templates in the software.
You can use the free trial to get the experience of the platform.
Web app compatible across Microsoft and Mac OS.
Cons:
The functions in the software are paid for.
Not suitable for other writers who write articles apart from novels.
Pricing:
| | | |
| --- | --- | --- |
| Plan | Monthly price | Annual price |
| Basic | $7.50 | $75 |
| Standard | $20 | $198 |
| Premium | $60 | $600 |
Ratings: 4.0/5
8. Bibisco
Bibisco is a user-friendly place for writers. It helps the users to organize their scenes, characters, and chapters. You can create a novel structure and define the plots and scenes using the software.
The app helps you to export your novel in pdf, epub, or doc. You can write your draft in distraction-free mode to avoid switching from one tab to another.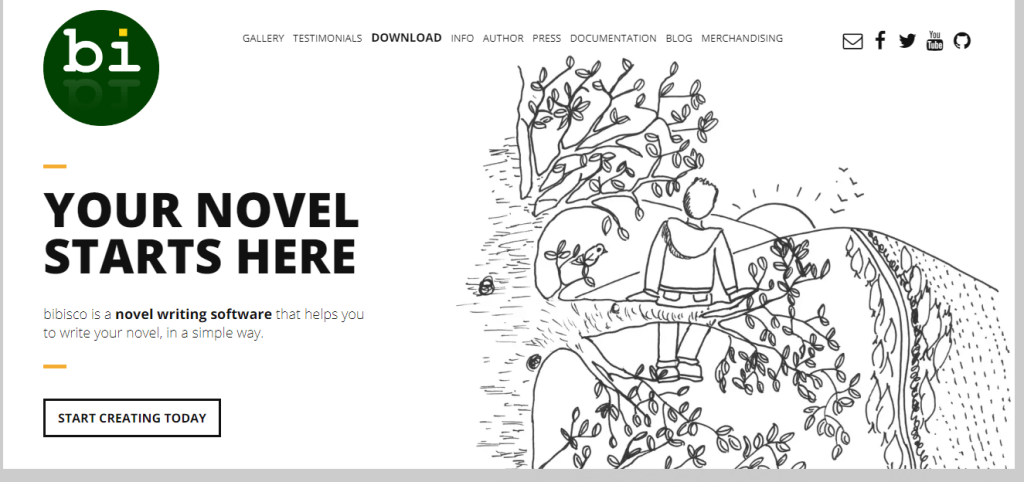 Pros:
Bibisco supports languages like Dutch, Czech, German, English, French, Portuguese, Italian, Polish, Serbian, Russian, Turkish, and Spanish.
The software is compatible with Linux, Mac OS, and Windows.
Analyzes and keep a record of your words.
Cons:
The software does not have enough options to format the exported document.
The UI is not clean.
There is no navigation menu to navigate around the editor.
Pricing: Free(Community edition)
Ratings: 3.9/5
9. Quoll Writer
The software is an open-source alternative for Scrivener. It helps the writers to edit their draft as well as plot down the scenes and characters in a structured way.
Quoll writer has a full-screen mode to help the writer stay distraction-free while working on their writing. All the features in the app are free to use and won't cost you a cent. The editor helps you to analyze your work using statistical analysis.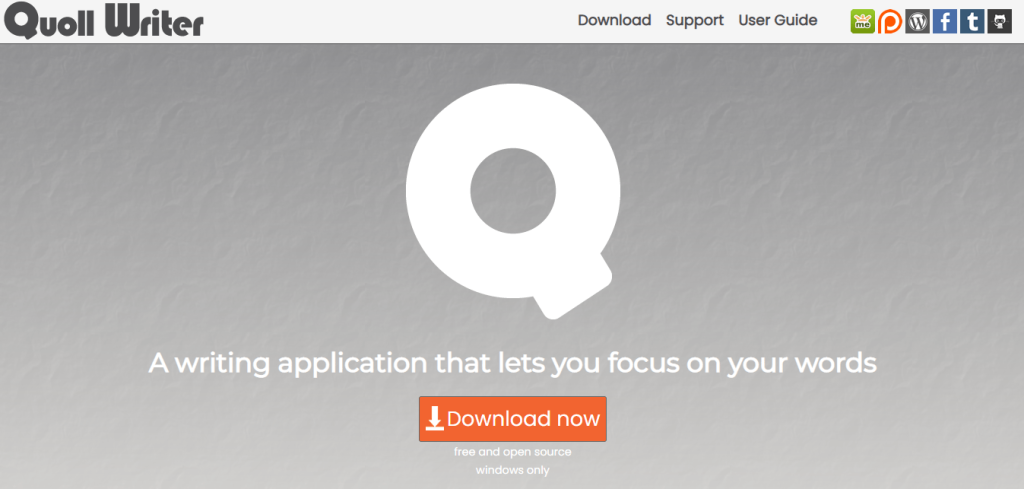 Pros:
Compatible with Mac, Windows, and Linux.
The documents from Windows Word can be imported into the app.
Automatically saves your work.
Helps the writer by checking spelling to avoid any mistakes. 
Cons:
Not enough options to format and arrange the draft.
The UI of the software is not clean enough and doesn't look good.
Pricing: Free
Ratings: 3.9/5
10. IA writer
The software is a writing app used to create and edit your writing. IA writer highlights the words that are repeated, unnecessary adjectives, and weak verbs. You can convert your draft into an HTML file or a Word or PDF document. 
The formatting can be easily done with the help of the tools available, and it supports Markdown. The app is also used to write distraction-free. You can easily publish your writings on the web with the help of the software. However, the IA writer is not efficient enough to manage long drafts and writings.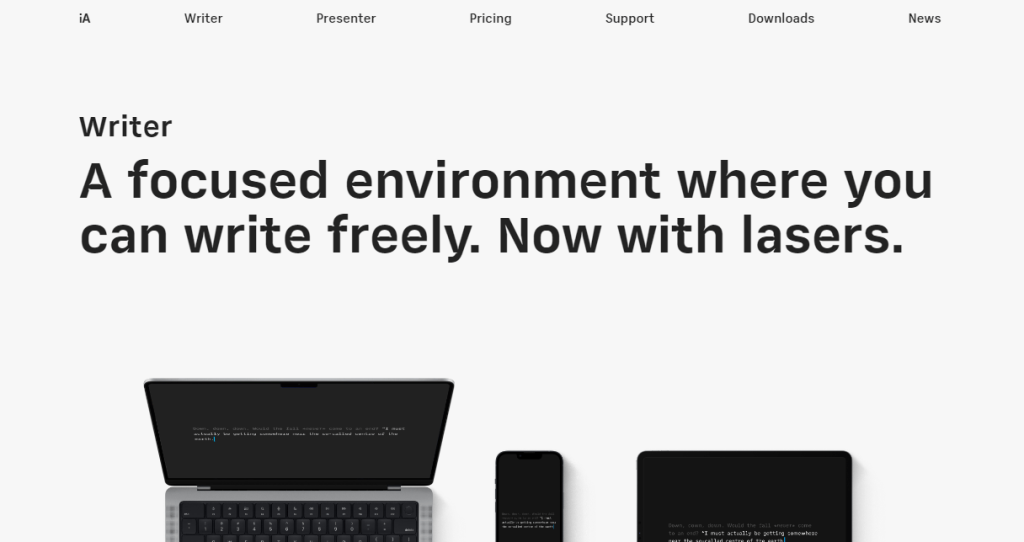 Pros:
The editor provides you with a distraction-free environment
The app checks the style of your writing and helps you maintain the flow of the article.
You can drag and drop the pictures into your writing.
Ready-made templates for your writing are available on the software. 
Available across all platforms.
Cons:
The software has limited tools to organize the files.
Limited formatting options.
Pricing:
| | | |
| --- | --- | --- |
| Platform | Ownership | Per year |
| Mac OS | $49.99 | – |
| IOS & Ipad | $49.99 | – |
| Android | $29.99 | $4.99 |
| Windows | $29.99 | – |
Rating: 4.0/5
11. Ulysses
The software is suitable for writing all types of content. It is basically like a note-taking app for Apple with some additional features.
The interface of the software is similar to that of a basic note-taking app and includes features to organize your writing. You can store all your notes, outline, and research content in one place itself. The app provides users with a built-in writing assistant that checks spelling and grammar and helps in proofreading.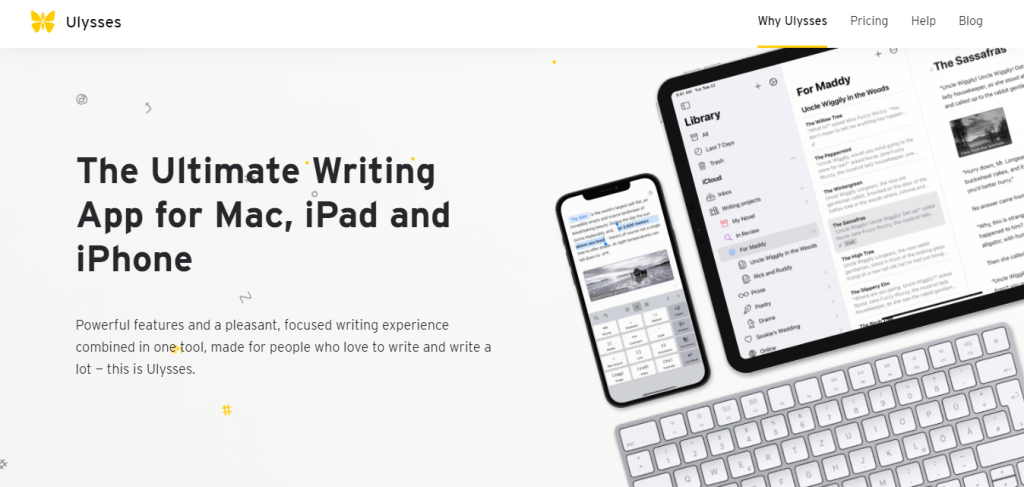 Pros:
Students have discounts on the plans.
The software is easy to navigate through and use.
The editor can be used for any writing project.
The app syncs with all Apple devices. 
Built-in proofreader.
Cons:
The software is not available for Windows, Linux and Android. 
You will not get any unique or automatic features to help you in writing.
The editor is quite basic and does not specialize in assistance of any particular writing.
Pricing: $5.99/ month ($39.99/year)
Ratings: 3.5/5
Final Verdict: Scrivener Alternatives
That's all about scrivener alternatives.
Scrivener is an all-in-one editing tool for novel writers. It edits, binds, and combines every scene, plot, and character you create. Its alternatives may not be efficient enough, but they will satisfy the purpose. Luckily, they are efficient enough to help you write your masterpiece and provide you with the required features to ease the process.
I hope that the above article has helped you to find the best scrivener alternative that fulfils your working needs and suits your work pattern. 
Latest posts by Ryan Harris
(see all)