Do you want to delve into the exciting world of coding without hurting your pocket? Codecademy promo codes are here!
With Codecademy promo codes, you can access the extensive library of courses at an unbelievably discounted price!
In this article, we will tell you about the currently active promo codes and how to use them to get a slash in the prices. We'll also tell you about the free trial and money-back guarantee schemes, so make sure you stick through to the end.
Read on to unlock your coding potential with Codecademy without wasting more time.
Available Codecademy Promo Code 2023
Codecademy offers various discount codes throughout the year that expire after a while. So, you need to make sure you don't lose the opportunity.
Codecademy is here with another great offer– The June Sale! They're offering a massive discount of 50% on their annual memberships! Use the code LEARN23JUNE at checkout to get exclusive savings with the purchase.
The annual membership comes at a price of $360, but you can get it for $180 using the code. However, hurry because the offer ends at 11:59:59 pm EST on June 26, 2023.
Note: The discount is only available for the annual plan.
Codecademy Promo Code: Steps To Redeem
Now that you know about the promo code, we're sure you must be excited to use the benefits. Here are the steps to redeem the Codecademy promo code:
Step 1: Visit Codecademy 's official website or click on this link.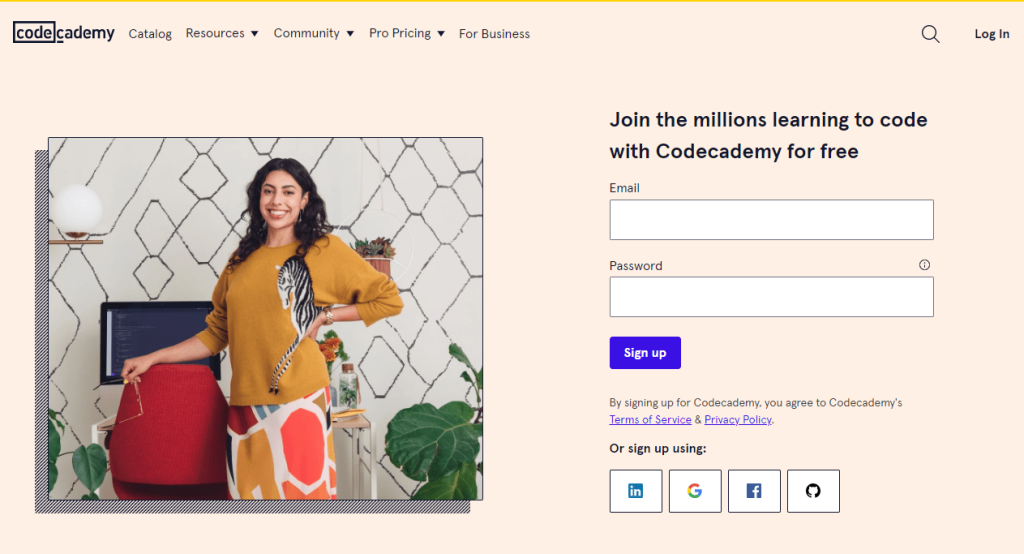 Step 2: You will land on a page that looks like this. Click on the yellow highlighted box reading "Join Pro for 50% off".
Step 3: Fill in your email address and password to sign up and create an account. If you're already signed into your account, you won't have to do this step.
Step 4: You will be asked to verify your email. After verifying it through your email account, you'll be redirected to the checkout page. Here, click on "Have a promo code?"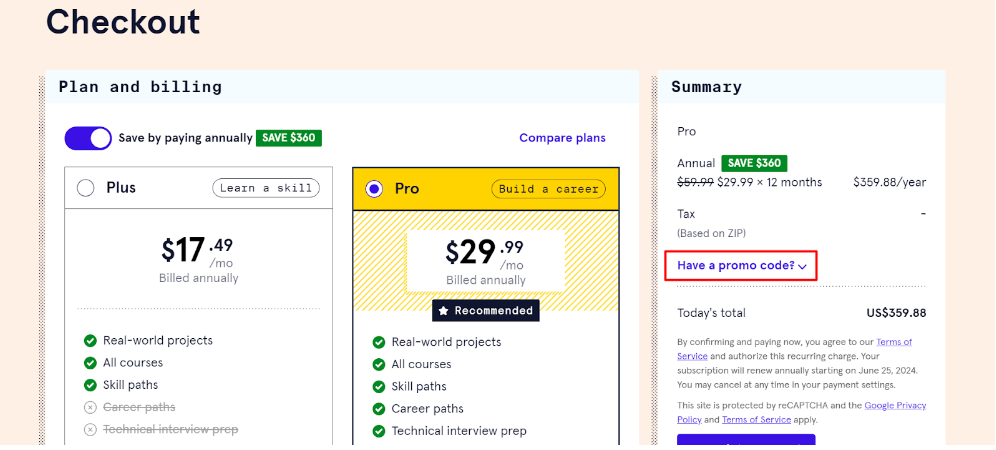 Step 5: Enter the promo code and click on Apply.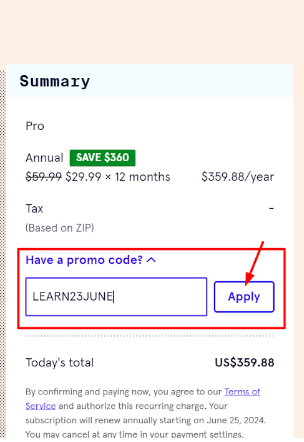 Step 6: You can see that the promo code has been applied and the price has been discounted.
Step 7: Scroll down, enter your card details, and complete the payment.

Congratulations! You have successfully redeemed the Codecademy promo code.
Is There A Money Back Guarantee?
Unfortunately, Codecademy does not offer a money-back guarantee. According to the policies stated on their official website, no refunds are granted for subscriptions, whether partial or complete.
However, you can request a refund exception by contacting Customer Support. You can contact them through the Contact Us page.
Codecademy Free Trial
Codecademy offers a free version with basic features. However, if you want to give Codecademy a try before committing to a year-long subscription, you can do so for free, thanks to their 7-day free trial.
The only downside (for some people) is that you would be required to enter your credit card details to access the free trial. Once the 7-day trial ends, you will be charged.
Codecademy: Pricing And Subscriptions
There are three versions of Coadeacademy: Basic, Plus, and Pro.
The basic version comes at zero cost, but you won't be able to access the core features. It has a few learning resources and limited usage on the mobile app.
Here are the pricings for the Plus and Pro versions.
| | | |
| --- | --- | --- |
| Version | Monthly | Yearly (Discounted Prices) |
| Codecademy Plus | $34.99 | $209.88 (or $17.49 per month) |
| Codecademy Pro | $59.99 | $359.88 (or $29.99 per month) |
As you can see, you can get a huge discount when you opt for the annual plan instead of the monthly plan. Still, if you don't want to commit for a year, you can try it out for a month first. If you like the courses, you can cancel your monthly subscription later and get the annual one.
Remember that the promo code is offering Codecademy Pro annual plan for $180. That's even less than the annual price of Cadeacademy Plus! If you want to redeem our working Codecademy Black Friday deal and grab 50% off here.
Related Read:
Conclusion: Codecademy Promo Code (2023)
Codecademy 's June sale is undoubtedly a big one. You don't get offers that save you $180 every day! You don't have much time before the promo code expires, so make sure you redeem it soon. With one subscription, you'll be all set for the rest of the year.
We hope our article on Codecademy promo code helped you save a few bucks. Be free to leave questions or suggestions in the comment section below.
FAQs
Can you use Codecademy without paying at all?
Yes. Codecademy offers a free basic version with access to a few courses. However, it lacks the core features. 
Can you build your career with Codecademy?
Codecademy courses can help you get started on your coding journey and become a better programmer. However, the courses do not guarantee you a job in the real world. 
Can you put Codecademy certification on a resume?
Yes. Putting your Codecademy certifications on your resume lets recruiters know you have taken the initiative to develop your skills and are serious about your career. 
Latest posts by Ryan Harris
(see all)