Podcasts are digital audio files or a collection of series that can be played or downloaded from the internet. Podcasts are like the audio version of youtube. A person who creates Podcasts is called a Podcaster, and podcasts could be on any topic. Podcasts are like an evolution of traditional radio stations. With podcast apps, listeners now have different options and topics of interest.
Most podcast apps have similar features. You have access to the subscribe feature. You can download and listen to episodes. The audio boost feature is also available in most podcast apps. Audio boost improves the quality of recorded voices.
Most apps also enable listeners to create a playlist.
We shall be analyzing the best applications for listening, sharing, and publishing podcasts.
Best Apps to Publish or Listen To Podcasts
Here are listed some best podcast apps. Rollover to check there.
| | | |
| --- | --- | --- |
| Sr No | Best Podcast Apps | Rating |
| 1. | Apple Podcast | 4.7/5 |
| 2. | Anchor | 4.6/5 |
| 3. | Spotify | 4.8/5 |
| 4. | Google Podcast | 4.7/5 |
| 5. | Sticher | 4.5/5 |
| 6. | Overcast | 4.4/5 |
| 7. | Podbean | 4.6/5 |
| 8. | Pocket Casts | 4.7/5 |
| 9. | Downcast | 4.6/5 |
| 10. | Castbox | 4.4/5 |
| 11. | Player FM | 4.5/5 |
11 Best Podcast Apps In 2023
Here is a detailed overview of the best Podcast apps that you must try
1. Apple Podcast
Apple podcast app is an audio streaming media player app developed by Apple. It has the most collection of shows. As expected, this app is available to only Apple IOS users.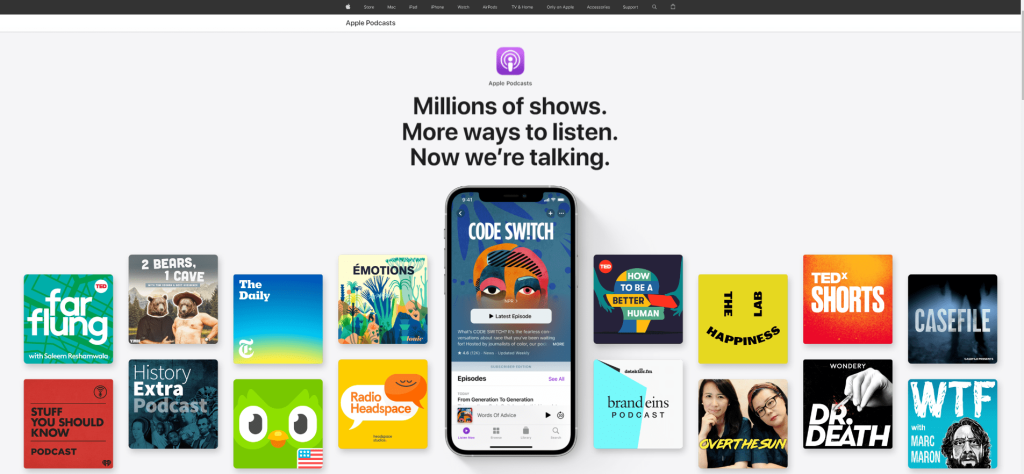 Apple first started supporting podcasts with iTunes 4.9 in June 2005, shortly after the emergence of podcasts. The Apple podcast app launched officially in 2012. The application has seamless features for downloading, publishing, streaming and sharing podcasts. Siri can access your podcast app so you can listen on the go. It provides access to over 30 million episodes for free with a premium payment option for shows.
Subscription: Paid
---
2. Anchor
Anchor is an all-in-one app for creating, editing, sharing, and listening to podcasts. The app is
accessible to use for both Apple and Android users. It has built-in tools to enable its users to create, publish and listen to episodes. Users can also use the Anchor app to distribute podcasts to other listening apps and sync future episodes subsequently. Podcast creators own the right to their content.
The Anchor app is a subsidiary of Spotify and is rated the most beginner-friendly app for podcasters.
Subscription: Free
---
3. Spotify
The Spotify Podcast app is the parent app to Anchor. While Anchor is an all-in-one app for podcasters, Spotify was developed mainly for listeners. It has a range of features to listen to podcasts or music and is rated the world's largest streaming platform. The app was initially a music player before it started doing podcasts in 2016. Spotify is for listening and sharing but not for creating and uploading. Spotify gives you free access to music and podcast on any device. If you are looking for a premium listening experience, you will enjoy Spotify.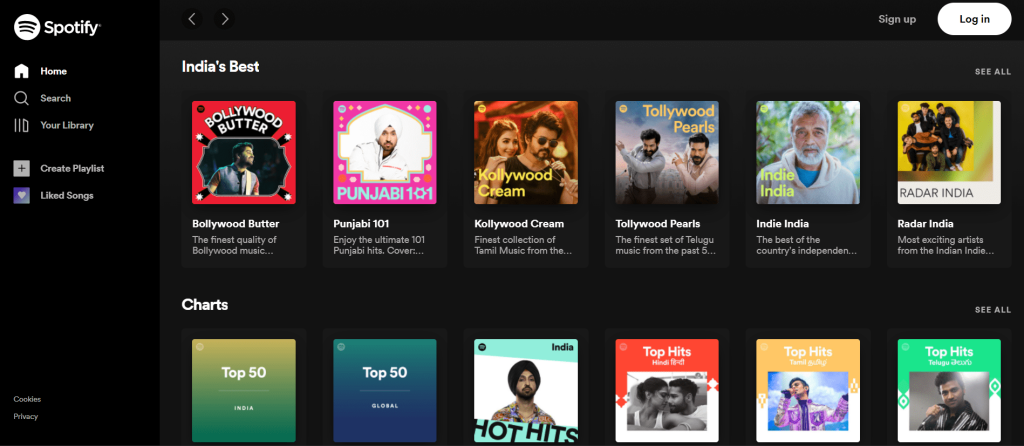 Subscription:
Free with a Premium plan.
---
4. Google Podcast
Google Podcast is a free podcast and music-listening app designed to grant easy access to popular podcasts. Google podcast helps you find and listen to podcasts anywhere for free. It has a sleek design and offers access to trending shows.
The app was released in June 2018 by Google for Android devices.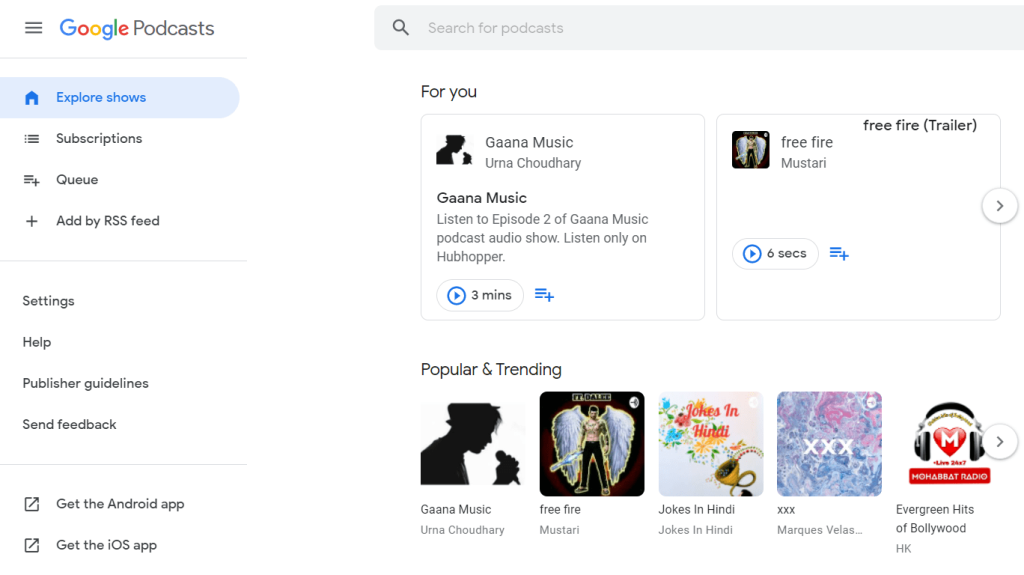 The IOS version was launched later two years ago, following the web version in 2019. The app is mainly Android-friendly and still has a lot of potentials.
Subscription: Free
---
5. Stitcher
The Stitcher podcast app focuses squarely on podcasts, unlike Spotify. The app is pretty straightforward with a sleek design. Listeners can search for episodes and create playlists on the app. It also shares updates and recommendations based on the listener's preference. It has a premium version that gives users ad-free listening and early access to new episodes. Other advantages include monthly giveaways. It is accessible on Android, IOS, and the web.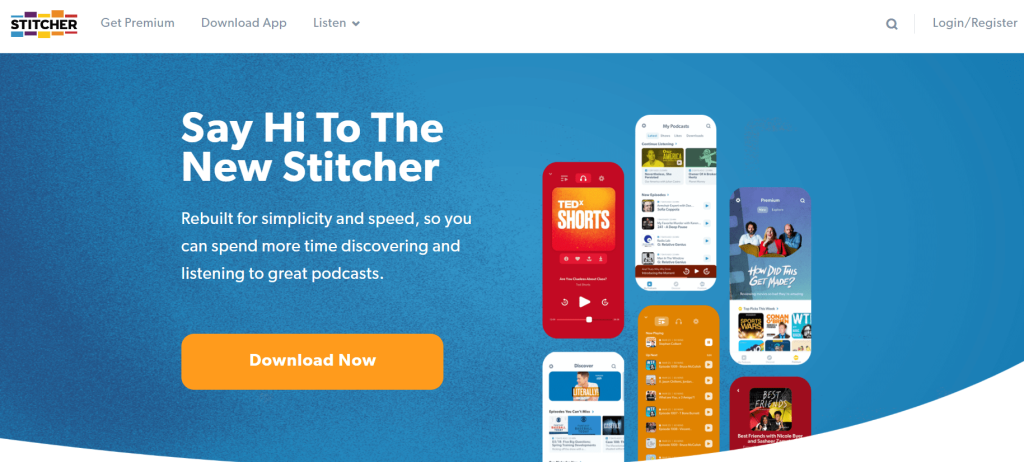 Subscription: Free with a Premium plan
---
6. Overcast
Overcast is a podcast app developed solely for IOS. It is for playing and downloading podcasts. The application features ads that are related to your listening preferences.
Users can disable Ads with a premium subscription.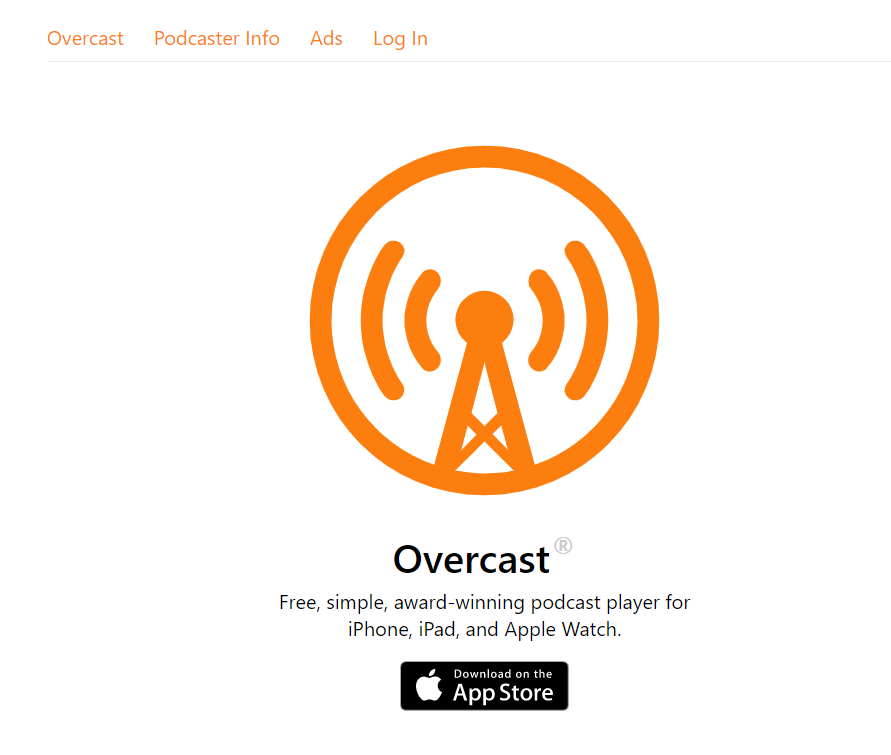 The Overcast app got rated for its simple, user-friendly setup. It was launched 7years ago by Marco Arment. The app recently got a total upgrade, focusing on the home screen, typography, and playlist screen. Users can create a separate playlist for downloaded and starred episodes. 
Subscription: Free
---
7. Podbean
Podbean is a popular podcast and a popular podcast app available on IOS and Android. Listeners can use it to play podcasts on Alexa and Amazon. The app is super easy to use and navigate. The audience can listen to their favourite podcasts anytime. It is also a good app for podcasters to record and publish podcasts from their phone. The app offers integrated monetization tools for podcasters, like sponsorship marketplace and premium podcast content. With Podbean, podcast lovers can listen and create in one app.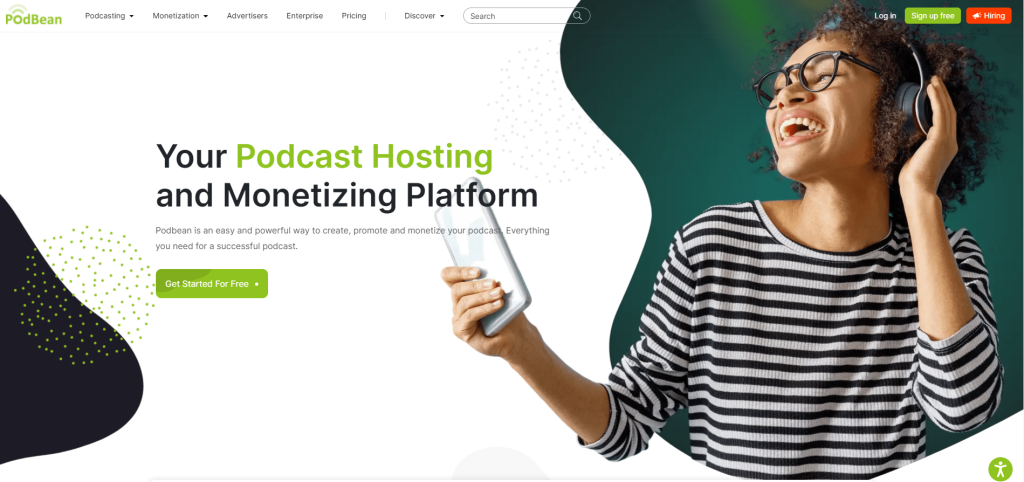 Subscription: Free
---
8. Pocket Casts
The Pocket Cast is a podcast listening app for people who love variety.
It has one of the best listening experiences with an impressive UI. It also has light and dark themes, volume boost, and Apple watch control. The pocket cast has a sync feature that helps listeners pick up from where they stopped on different devices. The app is available for both Android and IOS users. It is mostly free.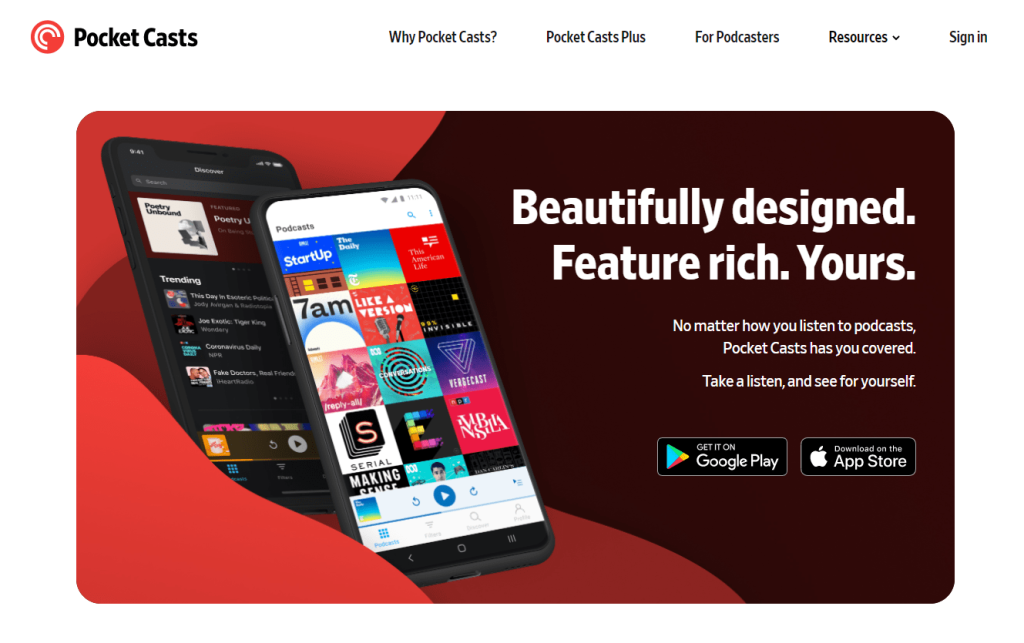 The pocket cast was acquired recently by the parent app WordPress in 2021.
Subscription: Free
---
9. Downcast
Downcast is a podcast application for IOS systems. The app is great for organizing your podcasts with excellent features.
Listeners can create a custom playlist with playlist-creation tools.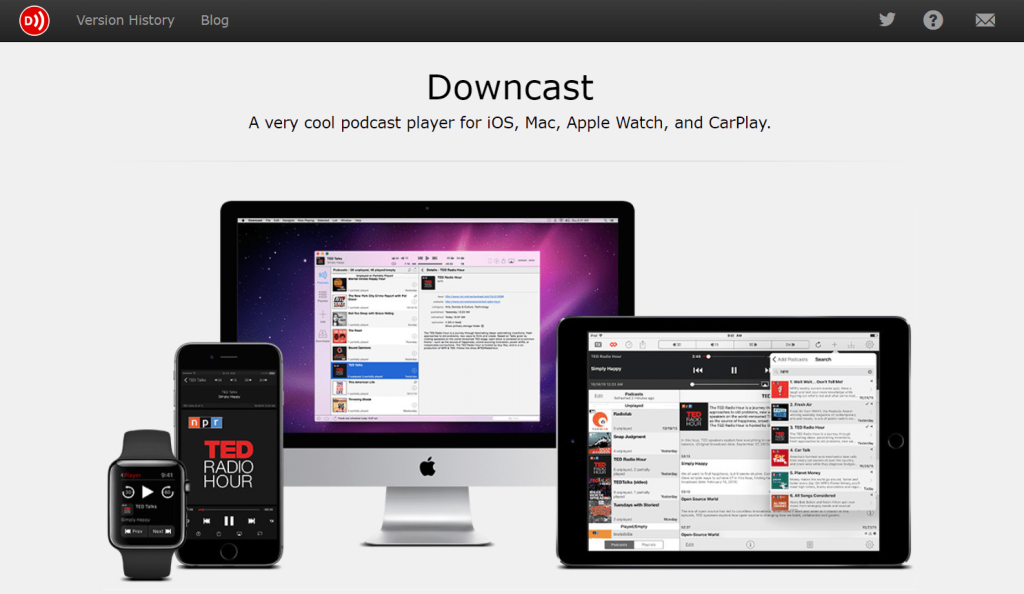 The app has a contemporarily sleek design with easy-to-use features. Downcast helps you find both audio and video podcasts. With the sync features, listeners can pick up where they left. Other features include rewinding and forwarding.
Subscription: Paid
---
10. Castbox
Castbox podcast is relatively new to the list but has impressive features and is gaining popularity. The app was released in 2018 and is available on Android and IOS. Castbox can also be used to listen to radio and audiobooks asides from podcasts. The app also has an in-audio search that helps you find any podcast.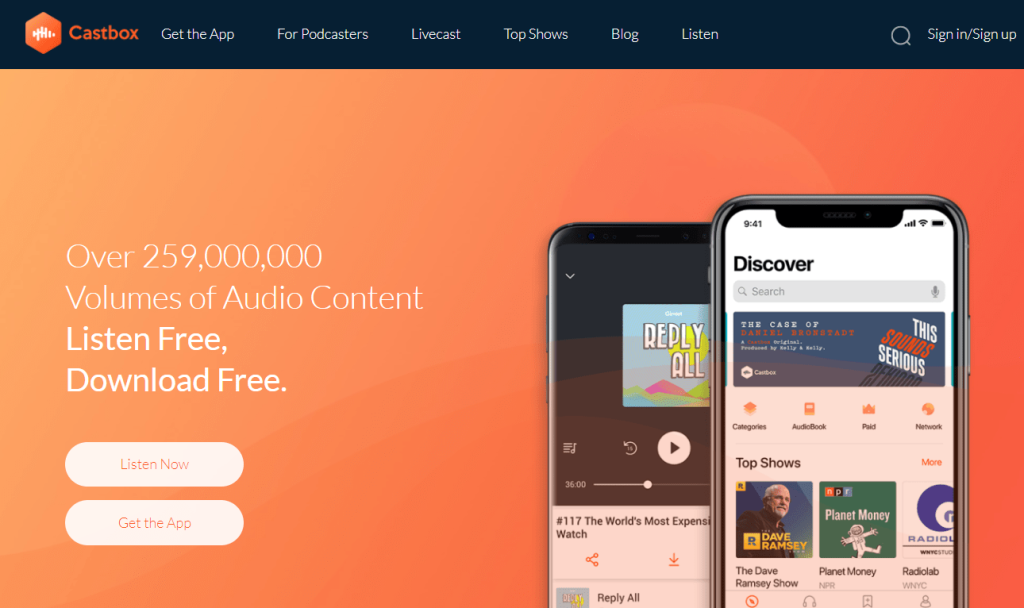 Subscription: Free
---
11. Player FM
Another podcast app that you can use to listen to your favourite podcasts is Player FM. It also lists podcasts that are published on multiple platforms. The creator of this iOS and Android app is Michael Mahemoff, but back in 2020, it was bought by Maple Media. It has a wide selection of sub-topics, so you can easily find what you're looking for here. It also offers video podcasts along with audio podcasts to give a better experience to its users. Sometimes you may not find your favourite podcast on Player FM; then, you can just import the public RSS feed of your favourite podcast to this platform and listen to all your favourites from one place.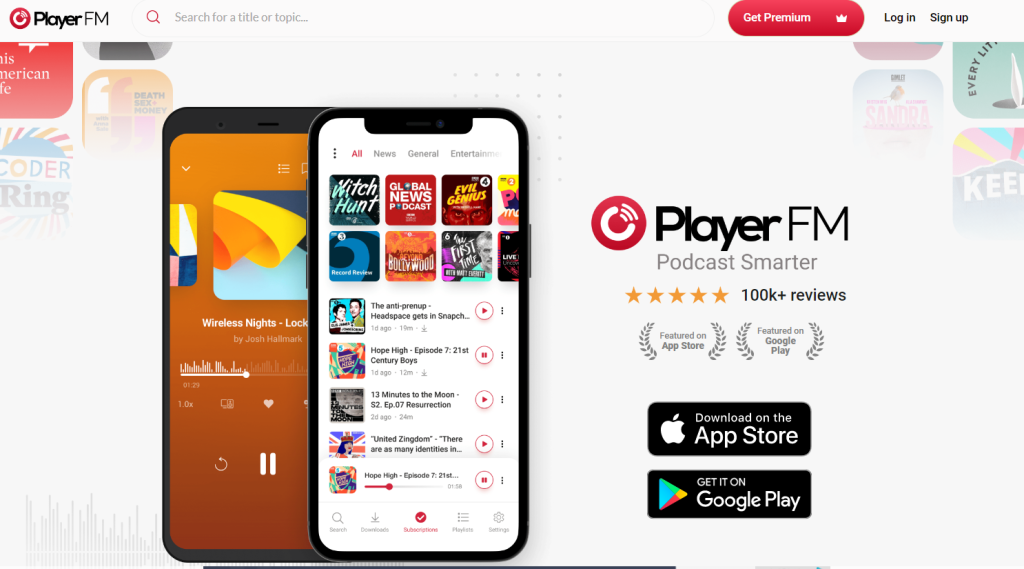 Subscription: The app is free to download and listen to but with ads. You can remove the ads with the premium, which costs $3.99/mo or $39.99/year, and the annual subscription comes with a 7-day free trial.
---
Conclusion: Best Podcast Apps
Podcasts are a great way to entertain and educate yourself on the go. For many, it serves as a daily boost of inspiration. If you are a budding podcaster or just exploring new episodes, this article will help you pick the app that suits you.
Latest posts by Ryan Harris
(see all)